Restrictions in the Centre
When in the centre we are asking everyone to wear their masks during transition; when you are entering or leaving the centre, or going to the bathrooms. When you are at your designated stationary area you can choose to remove your mask. There are markers on the floor to indicate each designated area. We ask that once you are at your spot you stay in that area until the activity is over. If for any reason you must leave your area, you are required to put on a mask and maintain social distancing while exiting the centre. The kitchen and women's washroom is restricted to everyone but staff.
All exercise classes will be reopen to the public in September. We ask that all people participating follow the guidelines posted above.
6 Hand Euchre is reopen to the public in September. We ask that all cardplayers wear their masks for the duration of the time spent in the centre. You will also be required to sign in for COVID contact tracing purposes. Snacks and beverages will not be offered as it was in the past until further notice.
We are very excited to announce that Diner's Clubs is back this April! Call the office to book your meal today!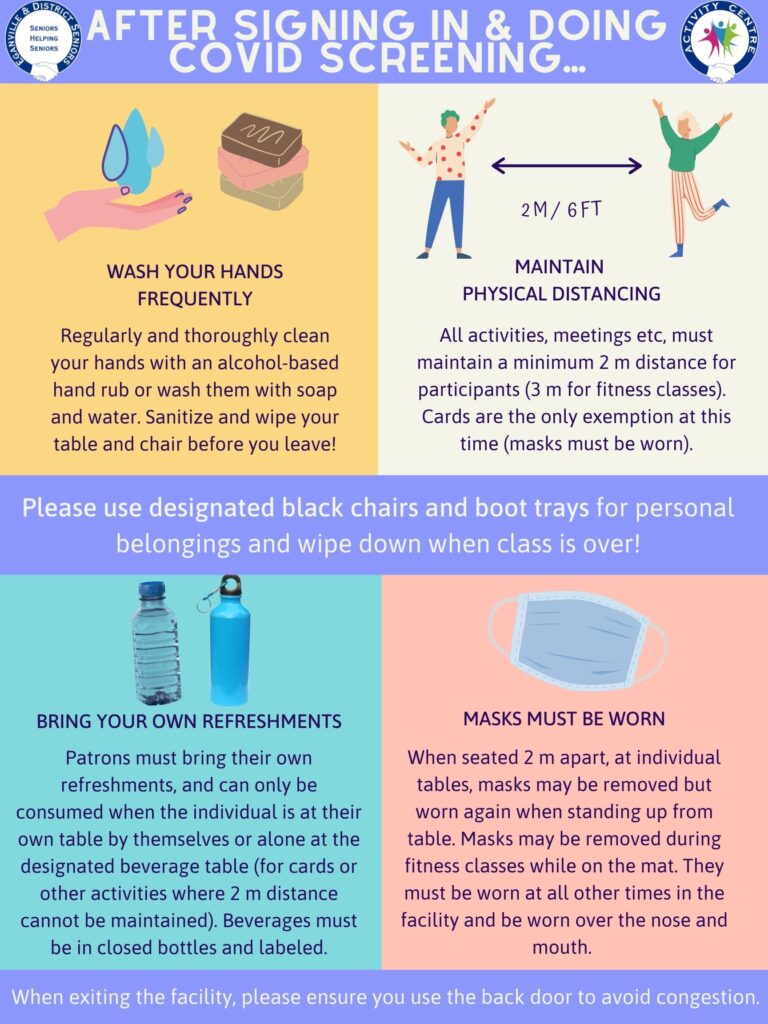 What We're Doing to Keep You Safe
We are following the Renfrew County District Health Units advisements for re-opening. Washrooms and public areas will be disinfected frequently, and the men's washroom will be a dedicated unisex bathroom to participants in the centre. The women's washroom is strictly a bathroom dedicated for staff. There is a lock on the men's bathroom to ensure privacy, and only one person is permitted at a time. Bleach and other forms of sanitization will be provided to disinfect equipment after each use.
Programs That Are Running
A lot of our services are still being offered! All home support services are still accessible to the community and many programs are being offered. All high and low mobility exercise classes will be held at the centre as well as Zumba! Support groups are re-meeting, computers are fun is running, and there is a Drive Thru Dinner being held once a month- weather permitting! 6 Hand Euchre is running at the centre and is open to the public! There is online trivia being offered once every two weeks via zoom. Our foot care clinic is open at the centre once again, just call to make an appointment! All programs and services that are currently running have been adapted to ensure safety and social distancing. 
When participants first arrive, they are to go through the screening process before entering the centre. Once you have been screened we ask that you move promptly to your spot to allow for the next participant to enter the centre and be screened. Due to capacity limits some activities may require you to sign-up prior to the activity. This must be filled out before participants show up to the centre. Three of the six computers are permitted to be used, leaving a computer in between each user.